Is Elon Wrong About LiDAR?
Yes... It's better to have multiple sensors.

Scale, 12.08.2019
Skateboarding does not need Games validation, says Hawk
"Skateboarding has so much more to offer young people in terms of self confidence, in terms of identity, in terms of setting their own challenges. And that is not competitive-based."

Reuters, 11.08.2019
We regret to inform you that scooters aren't actually good for the environment
Just because the scooters themselves don't spew out carbon dioxide, doesn't mean the process of making, charging, and transporting them is emission-free.... Scooters typically produce more emissions than a standard bus with high ridership, an electric moped, an electric bicycle, a regular bicycle, or a good old carbon-free walk.

Vox, 08.08.2019
"Old Paris Is No More"
Writers like Charles Baudelaire, Émile Zola, and Gustave Flaubert walked through the streets and monuments that would attract millions of tourists over the next century and felt little more than shame.... not only were thousands of buildings destroyed to make way for the new construction, but thousands of people were forced from their homes to make way for luxury buildings that the former tenants would not be able to afford. The new construction caused something of a great migration of people from the center of the city to the outskirts, setting up a geographical separation of poor and rich—and the corresponding dichotomy of suburb and city center—that has lingered to this day.

LAPHAM'S QUARTERLY, 29.07.2019
Was the Automotive Era a Terrible Mistake?
The age of driving may be merely a cul-de-sac in transportation history.

New Yorker, 22.07.2019
The Hidden Winners in Neighborhood Gentrification
A welcome sanity check on anti-gentrification arguments.

Citylab, 16.07.2019
Americans Shouldn't Have to Drive, but the Law Insists on It
"Inequities in traffic regulation are only the beginning. Land-use law, criminal law, torts, insurance, vehicle safety regulations, even the tax code—all these sources of law provide rewards to cooperate with what has become the dominant transport mode, and punishment for those who defy it."

The Atlantic, 09.07.2019
Berlin Brandenburg: The airport with half a million faults
Some very expensive lessons learned from Berlin's new airport. One simple problem, bizarrely enough, was the airport architect, Meinhard von Gerkan's dislike of shopping. The need for constant changes to the design even while construction was ongoing reflects a lack of adequate preliminary planning and design.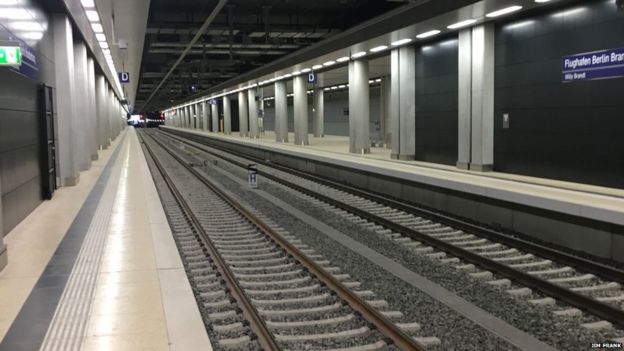 BBC, 29.06.2019
'No effective oversight': why the Opal and Mascot Towers cases may be the tip of a very large iceberg
"The design-and-construct model means a developer can get approval to start a project on the basis of partial concept drawings, a builder then tenders for construction and takes over the rest of the design work as construction takes place. Unlike the system which prevailed two or three decades ago, when an architect or clerk of works or engineer would see the whole process through from start to finish, in the design-and-construct model it can be a bit like pass the parcel."

Sydney Morning Herald, 22.06.2019
Airbnb likely removed 31,000 homes from Canada's rental market, study finds
The McGill authors note that frequently rented homes "are still a small fraction of total housing" in any Canadian city. However, listings can be highly concentrated in some neighbourhoods. In parts of Montreal, for instance, one in five homes were listed on Airbnb.

Globe and Mail, 20.06.2019
Taking a city's pulse with moveable sensors
A small number of taxis can circulate over a one-third of a city in a day, and a slightly larger number can reach half the city, but after that, a much bigger fleet is needed. "The practical side of the study is that city planners and policymakers, among others, now potentially have a more concrete idea about the investment needed for certain levels of mobile sensing, as well as the extent of the results they would likely obtain."

MIT News, 11.06.2019
Tokyo proves that housing shortages are a political choice
"The planning framework that underpins this supply is a simple zoning system that allows by-right development, rather than one that relies on granting planning permission for each individual site. There are only 12 zones, defined according to the maximum nuisance level they allow, ranging from sleepy residential to polluting industrial uses. The key is that pretty much anything can be built, provided it does not exceed the zone's nuisance level – so in areas zoned for high street usages it is possible to convert a hotel into housing and vice versa, but this is not possible in residential only zones."

Citymetric, 31.05.2019
The Birth and Death of a Bike Company; What Happened to Speedx?
"In May 2017, SpeedX and Bluegogo were at the zenith of their industry – a company of more than 500 staff, valued at more than US$150M, with an attractive high-end road bike on the way, a fleet of 800,000 sharebikes, and 20 million registered users. Within six months, it was all gone."

VeloClub. Image from AP via AAP Ri Xi/Xiquinho Silva/SpeedX, 15.05.2019
Hanoi BRT project faces failure
Writing on the wall for the Hanoi BRT

VOV, 13.05.2019