Far East Mobility's work on TOD is carried out with support from a Rockefeller Brothers Fund contract, and in cooperation with BRT Planning International.
See our series on TOD in Ji'an, a small to medium sized city in Jiangxi Province:
Part 1 - TOD in China: challenges and opportunities in Ji'an
(Aug 2017)
Part 2 - Ji'an TOD: best practices for station area zoning, mixed use, and density
(Sep 2017)
Part 3 - Improving parking, setbacks, pedestrian realms & street networks
(Sep 2017)
TOD in China
Transit-Oriented Development (TOD) in China is a matter of grave concern to the world. The problem of climate change is most critically dependent on what happens in the next few decades in the energy and transportation sectors in China. While certainly China's energy sector, heavily dependent on carbon-intensive coal, remains the greatest single threat to the global climate, its transportation sector remains a close second. While in recent years China has been making impressive strides to reduce its reliance on coal-fired power plants and replace these with renewable and less carbon intensive energy sources, on the transportation side, the outlook is far grimmer. China, which used to be a country of bicycles and tree-lined streets, in January 2016 reached 172 million cars, and is now the largest passenger vehicle market in the world. This is more than triple the number of cars registered in China in 2007. With car ownership of only around one in three households and 310 million licensed car drivers, there is plenty of room for this figure to grow. While the transport sector in China accounts for only about 10% of its total CO2-e emissions, emissions in the transport sector are projected to rise by 3.5% per year.
In the meantime, bus-based transit is failing to keep up. The focus in many cities, including Ji'an, has been on converting the bus fleet to electric buses rather than on improving bus frequency and service, and this is reflected in stagnant or declining mode shares. (In Ji'an, while the fleet has been converted nearly wholly to electric buses, the overall city bus fleet has not increased signficantly since 2012.) In the short term, in small cities such as Ji'an, people are relying initially on electric bikes, and later on cars.
Much of this motorization rate is being encouraged by outmoded planning and building regulations. To give one example, most planning and zoning codes in China require the developers of residential buildings to include somewhere between 0.5 and 1 parking space for each new residential unit. That means China is building cities designed to handle about 0.5 to 1 car per household. This is not the only element that is dysfunctional from the point of view of encouraging transit use, cycling, and walking. Most of China's planning and zoning regulations follow the textbook modernist approach of separating not only noxious land uses from each other but also separating buildings from the surrounding streets by elevating them and setting them back from the property line. While the separation of noxious industrial land uses continues to be a good practice, many land uses are considered compatible with each other, such as residences and offices, offices and retail, and retail and residences. Rigidly separating these land uses has tended to add needless distance to people's everyday life, distances that invariably induce the wealthy and middle classes to embrace the private automobile when it becomes an economic possibility.
While zoning codes which rigidly separate even compatible land uses are considered outmoded in almost all of Europe and in a growing number of US cities, they are still the dominant paradigm in China. In China, however, the outmoded nature of these regulations is having a particularly damaging long term effect because China is currently undergoing the largest housing construction boom in the history of humanity.
TOD and BRT
While TOD is well-established as part of mass transit rail projects as an excellent way to maximize the benefits of such large investment, TOD approaches in the field of BRT have not yet been achieved or even approached in any systematic way. BRT projects generally proceed without any TOD planning. While TOD planning was carried out in Guangzhou, Lanzhou and Yichang by ITDP and by the Energy Foundation in Jinan, Chongqing and Kunming, the approach was probably too design-focused in the former cities, and the BRT systems were unsuccessful in the latter cities. Some positive results were achieved in Guangzhou, Lanzhou and Yichang, but generally on an ad hoc basis in some selected station areas. Some of the achievements, such as the Tangxia BRT station area improvements, followed from a district-level urban village improvement project rather than from any direct relationship with the BRT station or corridor.
Far East Mobility's work in TOD aims to build upon and learn from the earlier approaches, with the goal of creating 'demonstration' best practice examples which can then be emulated by other cities. Ensuring that high quality station access and station area development improvements are incorporated into high capacity BRT corridor planning requires technical, policy, design and planning inputs which usually go beyond the boundaries of how a particular project is defined, since this work involves TOD, non-motorized transport, urban design, parking, traffic management and other aspects in addition to the transit elements.
Documentation of best practices in urban development
Far East Mobility also documents best practices and impacts of TOD and NMT measures.
TOD and urban development best practice case studies are documented here, including the following:
Greenfield/Brownfield ----
OCT, Shenzhen
Transit node ----
Shipaiqiao, Guangzhou
Mass transit ----
Guangzhou BRT
Waterways ----
Donghaochong greenway
Historical quarter revitalization ----
Lizhiwan canal, Guangzhou
Urban village regeneration ----
Tangxia Village, Guangzhou
Housing estate revitalization ----
Liuyun Xiaoqu, Guangzhou.
NMT and Complete Streets
"Complete Streets are streets for everyone. They are designed and operated to enable safe access for all users, including pedestrians, bicyclists, motorists and transit riders of all ages and abilities" (definition from Smart Growth America). Far East Mobility works on road design and planning including complete streets and high quality pedestrian & bicycle facilities and policies, often as part of a BRT project.
TOD in Ji'an
Recent work in Ji'an has documented challenges and opportunities for TOD implementation together with the BRT corridor currently being planned and designed. See the part 1 article setting the context, the part 2 article looking at density, mixed use and station area zoning, and the part 3 article looking at setbacks, pedestrian facilities, road networks and parking.
Other cities
Far East Mobility experts' earlier work on TOD included intensive inputs to TOD planning along BRT corridors in Guangzhou, Lanzhou, and Yichang, as well as to BRT systems in planning in Vientiane, Johor Bahru, Tianjin, and other cities. More recently our TOD inputs are concentrated in Ji'an (as part of the BRT planning), Ulaanbaatar (as part of the BRT planning), Guiyang (also as part of ongoing BRT planning), and ongoing TOD best practice documentation.
News & links
AMERICA'S UGLY STRIP MALLS WERE CAUSED BY GOVERNMENT REGULATION
Strip malls come from government regulation, not the market: requirements on setbacks, parking, single use, density.

Market Urbanism Report, 28/06/2018
China Seeks to Rein In Ambitious High-Speed Rail Projects
China's top national economic planner has issued guidelines specifying that land around high speed rail stations earmarked for development should not on average exceed 50 hectares, although for a small number of stations, that figure goes to up to 100 ha. The NDRC said that new high-speed railway lines should not lead to the partitioning of cities; stations should be located within, or as near as possible to, central urban areas for convenience of passengers; and buildings should not be ostentatious, grandiose projects. Unfortunately, the horse has bolted and these guidelines probably should have been provided a decade ago.

Caixin, 09/05/2018
The Real Reason Your Local Mall is Failing
"And we should also recognize where our wealth really comes from. It comes from our downtown and our core neighborhoods (those within walking distance of the downtown). It certainly doesn't come from people driving through those places. It doesn't come from people commuting in. It doesn't come from tourists or developers or the potential of land development out on the edge."

Strong Towns, 23/04/2018
Are Houston's Deed Restrictions "Basically Zoning"?
City officials don't regulate zoning, but do regulate lot sizes, setbacks, and parking requirements. They also enforce private deed restrictions.

Market Urbanism, 11/04/2018
San Jose Becomes Fourth California City to Adopt VMT as Metric for Traffic Impacts
San Jose City Council has adopted a new citywide policy that requires new developments to account for the amount of vehicle travel they would produce, rather than just how much they will delay car traffic. And transportation projects that encourage travel by transit, bike, or walking may no longer even have to go through a CEQA analysis for transportation impacts, since it is presumed they will produce fewer vehicles miles traveled.

Streetsblog Cal, 06/03/2018
California's Love of Cars Is Fueling Its Housing Crisis
Adding an above-ground parking spot costs $27,000, just for construction, while an underground space runs around $35,000, according to Donald Shoup in 2014.

Bloomberg, 06/03/2018
Highrise car parks to be banned in drive to improve city streetscapes
Underground car parking would be the only type allowed in most city apartment and office developments, under new rules being considered by Melbourne City Council. Many additional streetscape-improving policies are being planned.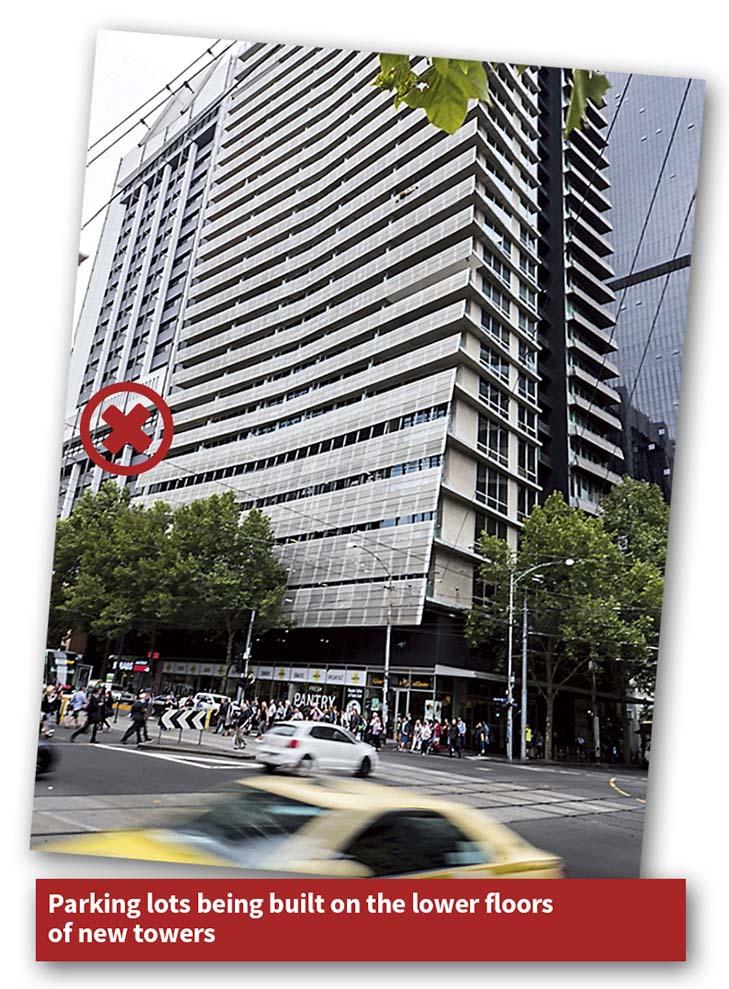 The Age, 15/02/2018
These maps reveal the truth about population density across Europe
Simply dividing the number of people by the land area of a country is not always the best way to understand population density.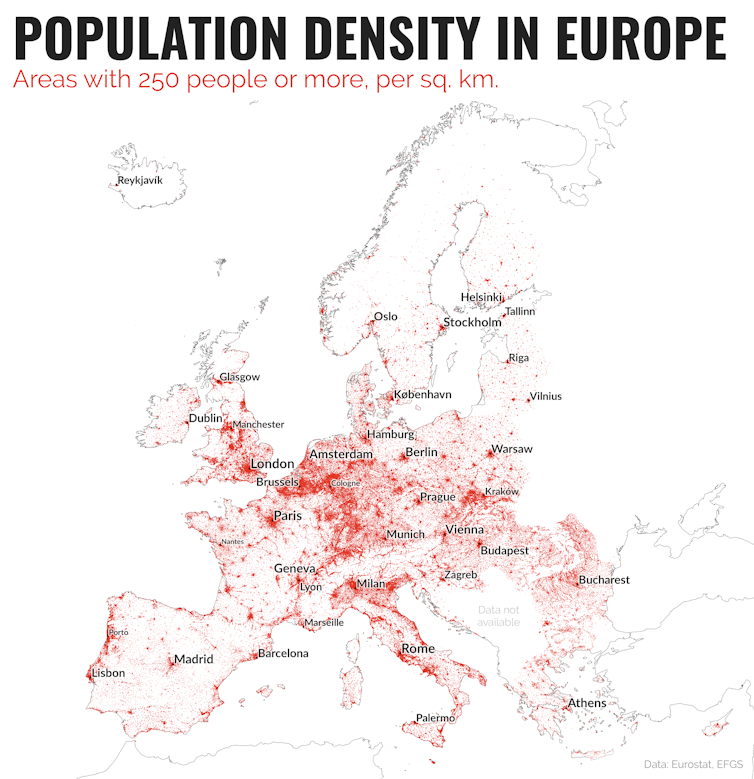 CityMetric, 25/01/2018
Plan To Hike Taxes Near Big Subway Projects
NY State 2019 budget plan would give the Metropolitan Transportation Authority the power to create "transportation improvement subdistricts" in areas where property values would increase because of transit projects.

Patch Media, 23/01/2018
Faster Growth Begins With a Land Tax in U.S. Cities
The tax would reduce land prices and increase the incentive to build more, which in turn will help drive down rents, making a city more affordable.

Bloomberg, 24/10/2017
Inner-city living makes for healthier, happier people, study finds
The study – by Oxford University and the University of Hong Kong – showed that in 22 British cities people living in built-up residential areas had lower levels of obesity and exercised more than residents in scattered, suburban homes.

The Guardian (citing Lancet), 06/10/2017
Green Gentrification, and How Environmentalists Can Avoid It
A new report from the Prevention Institute — Healthy Development Without Displacement: Realizing the Vision of Healthy Communities for All — aims to connect healthy community development with sound anti-displacement policies.

NRDC, 05/10/2017
The 'New Urbanism' Movement Might Be Dead
Like 'big data', New Urbanism has become so mainstream that it's hard to think of it as a separate movement anymore.

Governing, 01/10/2017
New report reveals huge social value of London's high streets
A report explores the threats to high streets as well as their value and offers recommendations to strengthen them.

LSECities, 29/09/2017
Los Angeles' legendary palm trees are dying – and few will be replaced
A beetle known as the South American palm weevil and a fungus called Fusarium are killing palm trees across southern California ... and doing residents a big favour.

The Guardian, 29/09/2017
Build it and they will come? Why Britain's 1960s cycling revolution flopped
"If the reasons for Stevenage's failure to encourage cycling were that it was too easy to drive, then no amount of investment in marketing the town's cycling facilities would have changed travel behaviour."

The Guardian, 19/09/2017